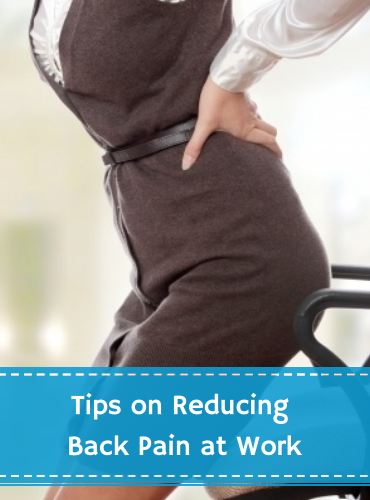 Back pain can turn an ordinary day at work into eight hours of unproductive torture. Although your company boasts excellent health care benefits, you don't want to head for the doctor every time you feel a twinge in your back. Otherwise, you'd be there everyday. Relief may lie in changing some bad physical habits you've developed over the years. These tips can help.
Customize the Furniture
The most ergonomically designed chair in the world is useless if you rely on its factory settings. Spend a few minutes to adjust the options of your furniture so they fit your body. If you're not mechanically inclined, call your office maintenance person for help. The height of your seat must allow you to keep your feet on the floor and your knees at 90 degrees. Adjust your keyboard holder and armrests so your arms are at a 90-degree angle when you type. If your chair has no lumbar support, put a pillow in the small of your back.
Keep Your Head Up
Align your head and neck so they are directly above your shoulders. Fix your monitor so you can look at it comfortably without bowing your head or moving it forward. Do not tuck your phone between your head and shoulders to keep your hands free. If you must do this for extended periods, ask your boss for a speakerphone or headset. Otherwise, alternate holding your phone to each ear with your left and right hands.
Move Around
Holding one position for hours is unnatural for the body. Stand up every hour just to get out of the sitting rut. If possible, walk around, perhaps to file a memo, copy a document, or go to the restroom. If you can, alternate between sitting and standing throughout the day.
If your back pain continues despite these efforts, please contact us. We'll analyze your body and current work situation to provide relief options.