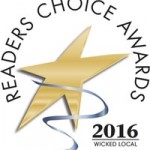 We are pleased to announce that Wicked Local has awarded our practice the best chiropractor in Randolph award for 2015 and 2016!
For the past 20 years, the Readers Choice Awards have been awarded to local businesses in more than 75 categories from communities across eastern Massachusetts. The process of voting for the best chiropractor was conducted by Wicked Local, where hundreds of thousands of votes were cast from the local communities.
If you want to see what people are saying about our practice or leave your own comments, visit our website at www.bdchiro.net or our Google Plus page here.