Contact
Barbati & Davies Chiropractic
63 South Main Street
Randolph, MA 02368
mirtha@bdchiro.net
Tel: (781) 961-4460
Fax: (781) 986-3650
At Same Location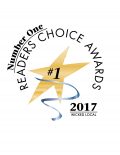 Barbati & Davies Chiropractic was awarded 1st place in the 2017 Readers Choice Awards by Wicked Local as the best chiropractor in the local community!
Were you in an accident? Are you experiencing chronic pain? We can help!
Recent Blog Posts
Happy Patients
"
I always go back to Barbati and Davies. My son is also a patient. I would recommend them to anyone for their professionalism and personalized manner of treatment.
"
"
The staff was very considerate, accomodating and was very professional. They had a genuine concern for my condition and was very flexible as far as scheduling. Dr. Davies did an excellent job explaining my problem and explained from day 1 how the procedure would go and what to expect in "lay mans terms". He did an excellent job and I highly recommend them to anyone who needs this type of service.
"
"
I am a 25 year old male. I was skiing in Killington Vt when i hurt my back. I thought i was going to die!! My buddy told me about Dr. Davies and I called up for an appointment and they got me right in. Within in 4 weeks i felt 100% better. Thank you for all your help Dr. Davies! I will recommend you to all my buds.
"
Read more reviews
Common Conditions